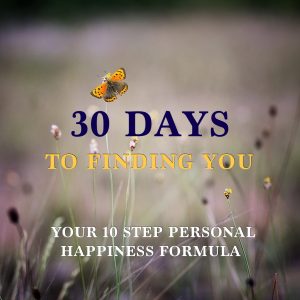 30 DAYS TO FINDING YOU AND START LIVING THE LIFE YOU IMAGINE
Are you at a point in your life where you are ready for a change? You may be discovering that there is more to life than just waking up each day and going through the motions. Whether you have experienced recent tragedy in your life or are going through a transition phase at this very moment, or maybe just feeling that enough is enough and desperately seeking for answers to your most fulfilling path, the time is now to make those personal discoveries to live the life you truly imagine."
Whatever situation you are in right now, you can definitely turn things around! It is time to take that first step and make a change toward a more fulfilling future. The 10 principles in this audio course, along with the exercises in this workbook, when applied over the course of 30 days, will help you attract more of the things you are looking to do and achieve and will ultimately provide you with a clear picture to the road to your greatest happiness. The secret to creating a life worth living is to apply a series of time-proven principles from happy, fulfilled individuals who have come before us and shared their wisdom with us.
It's time you start living the life you imagine!
30 Days to Finding You and Start Living The Life You Imagine: Your 10 Step Personal Happiness Formula takes you through the 10 principles that can transform how you feel and help guide you toward your highest mission and purpose on this planet. In this program you will also receive a workbook with exercises for each principle.
The 10 Principles you will learn include:
Principle #1: Determine What Truly Inspires You
Principle #2: Write Down Your Intentions And Turn Them Into Meaningful Goals
Principle #3: Develop Self-Discipline
Principle #4: Surround Yourself With Like-Minded Positive People
Principle #5: Practice Being "Mindful" In The Power Of Now
Principle #6: Go On An Information Fast And Digital Detox
Principle #7: Live In A State Of Gratitude And Appreciation
Principle #8: Regularly Serve Others
Principle #9: Practice Spirituality & Strive To Become Enlightened
Principle #10: Apply Your Personal Happiness Equation Starting Today
You will also receive The Happiness Formula that I've shared with thousands of other people looking to experience their "IT" – "inner transformation." You will discover the factors that contribute to your personal happiness, as well as uncover your "Unhappiness Formula," and also be ready to regularly apply this 10-step formula necessary to experience your personal fulfilling state of happiness starting today!